Concept art shows US defence giant Lockheed Martin's hypersonic Air-launched Rapid Response Weapon (ARRW). The US Air Force recently announced it would no longer pursue the missile's development. Photo: Lockheed Martin
The US' technological edge is eroding, an Australian intelligence chief said on Tuesday, as a Sydney conference was told the Aukus alliance of Australia, Britain and the United States must collaborate on quantum and hypersonic technology to compete with China.
Former Google CEO Eric Schmidt, chairman of the US Special Competitive Studies Project, told the Sydney Dialogue that China was unlike the Soviet Union at the height of the Cold War, because it was "an autocratic competitor that is run by technocrats that is very capable of inventing a new future".
Andrew Shearer, the director general of Australia's Office of National Intelligence, said the balance of power in the Indo-Pacific region was starting to "shift away from the United States and its allies, undermining deterrence".
"We are seeing our long-standing technological edge start to erode, and in some cases that edge is totally gone," he added.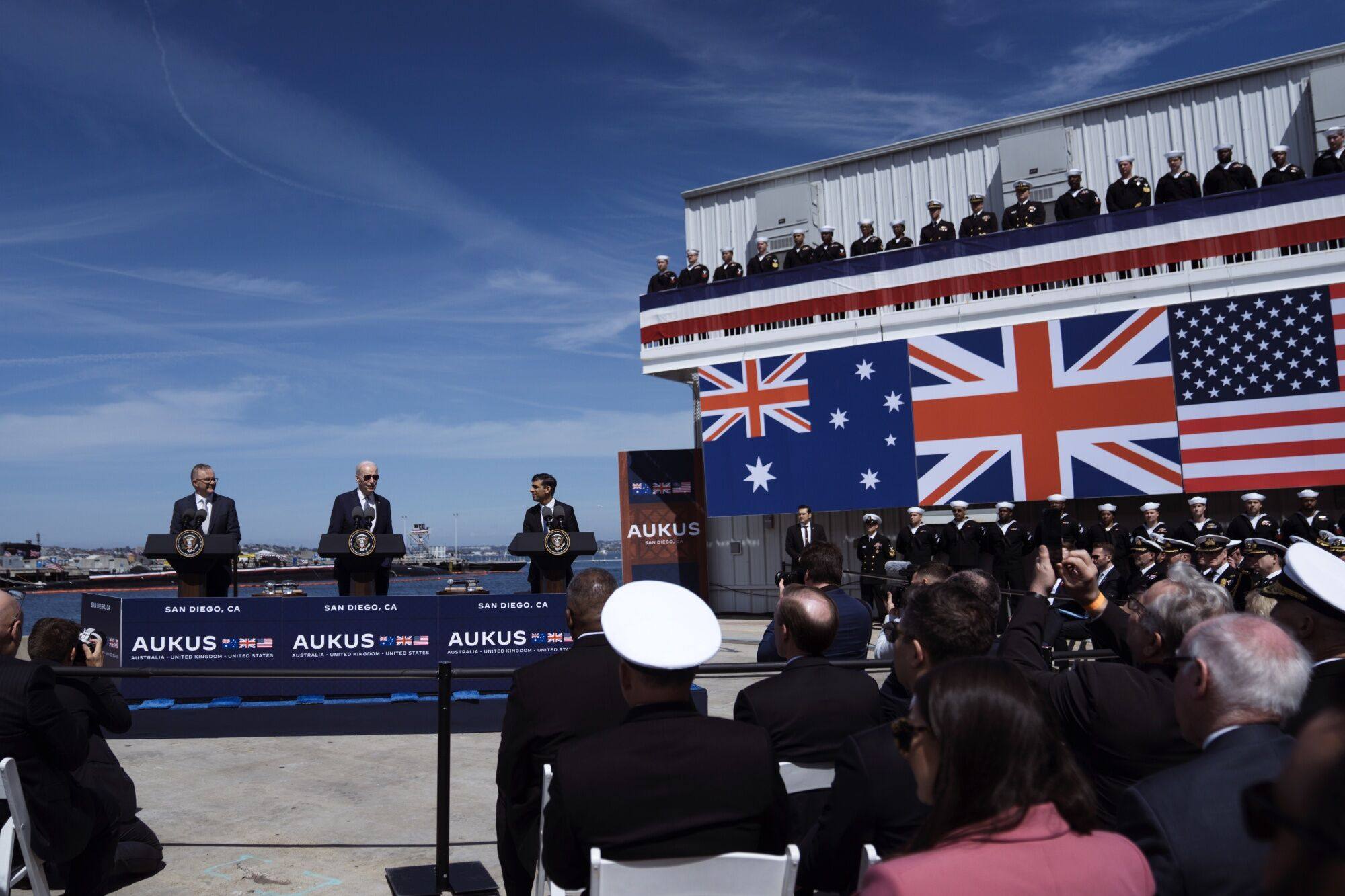 Australian Prime Minister Anthony Albanese, US President Joe Biden and UK Prime Minister Rishi Sunak announce details of the Aukus submarine pact in California last month. Photo: Bloomberg
The Aukus alliance will see Australia buy a fleet of nuclear-powered submarines, but Defence Minister Richard Marles told the conference, hosted by the Australian Strategic Policy Institute, it would also share other defence technologies.
Australia's top quantum computer scientist, Michelle Simmons, said Aukus would need to overcome hurdles to collaboration, such as foreign investment and visa restrictions, and she urged the three nations to form a "joint mission" to develop a quantum computer.
"Its quite critical for the nations to work together to make sure we pool our resources, to make sure we are at the forefront," she said.
Britain was behind where it wanted to be in hypersonics and Aukus would help, said Stephen Lovegrove, the country's former national security adviser.
Schmidt, who has advised the US Department of Defence on artificial intelligence, said China is organised around drones, hypersonic and automation technology, and this should influence Australia's military spending decisions.
Although it was likely there would be decoupling between China and Western allies in critical technology, China was not an enemy and they could work together in other areas, he added.
"We are going to have a great deal of non-strategic partnering with China, and Australia will in particular, there will be lots of trade in things that are relatively commodity … but there's not going to be agreement on common standards on chips," he said.
Source : SCMP