TikTok, the popular social media app owned by Chinese mega conglomerate ByteDance, is increasingly impossible to escape in the American zeitgeist. The app is on a meteoric rise in the United States, consistently topping the charts across U.S. app stores and currently boasting over 150 million monthly active American users, up from 100 million in 2020.
Unlike U.S.-based social media platforms like Facebook, Instagram, Twitter, Snapchat, and LinkedIn, which are subject to U.S. law and the U.S. judicial system, TikTok's foreign ownership and possible entanglements with Chinese government intelligence agencies and the Chinese Communist Party (CCP) present unique challenges for American lawmakers.
Many U.S. officials are concerned about TikTok's potential threat to national security. Policymakers have proposed many different solutions, from granting the Biden Administration new authority to ban TikTok and similar apps on national security grounds, to forcing a sale or divestiture of the company (which now seems to be a less viable solution), to prohibiting government agencies from using TikTok on government-issued devices and networks.
Federal Lawmakers Press TikTok's CEO on CCP Ties, Privacy Concerns
In a rare demonstration of bipartisanship on Capitol Hill, members of the House Committee on Energy & Commerce, led by Chair Cathy McMorris Rodgers and Ranking Member Frank Pallone, grilled TikTok CEO Shou Chew in a marathon 4-hour hearing. Lawmakers covered a wide range of issues, primarily analyzing the tangled web tying the U.S. TikTok app to its parent company, ByteDance, and the Chinese government.
Members of Congress also zeroed in on TikTok's data collection practices, debated the TikTok algorithm's addictive design and impact on children's mental health, and called for a unified U.S. data privacy law as a remedy to such concerns.
In his testimony, Chew made the case that the TikTok platform has been a positive force, helping millions of Americans express themselves, connect with their peers (especially throughout the pandemic), and support small businesses and independent communities who depend on TikTok to reach their audiences. He also refuted the claim that TikTok is beholden to the Chinese government and touted the company's efforts to be a "responsible steward of user data."
Chair Rodgers, however, made her position clear: "TikTok collects nearly every data point imaginable, from people's location, to what they type and copy, who they talk to, biometric data, and more. TikTok surveils us all, and the Chinese Communist Party is able to use this as a tool to manipulate America as a whole. Your platform should be banned."
Despite Consensus Among House Committee Members on TikTok's Potential Threats, the Path Forward Remains Uncertain
President Biden and key Members of Congress on both sides of the aisle have now called for an outright ban of the TikTok app in the United States, going beyond Congress' more limited TikTok ban on federal government devices and networks enacted in the December 2022 omnibus spending bill. Although the federal government and over 25 state governments have taken this step to eliminate TikTok from official government devices, there are currently no such restrictions preventing private citizens from using TikTok on personal devices.
Some opponents to a widespread ban on TikTok highlight the potential First Amendment violations involved should the federal government ban an entire speech platform, let alone one of the top social media platforms in the U.S. by usage.
Advocates of limited government and free markets should take pause and consider the consequences of granting the Biden Administration and subsequent presidents sweeping new powers over the digital speech domain. Some argue there is a significant risk of inadvertently encompassing other apps or telecommunications services beyond TikTok and ByteDance should legislators adopt overly broad language in new regulations.
Nevertheless, at the federal level, several Members of Congress have introduced a variety of different legislative proposals to restrict TikTok and other foreign-owned apps in some form, including: The RESTRICT Act, The No TikTok on United States Devices Act, The DATA Act, and The ANTI-SOCIAL CCP Act.
Beyond these measures, Members of the House Committee on Energy & Commerce have used this TikTok momentum to reinvigorate their stalled effort in the previous Congress to pass a federal data privacy law, the American Data Privacy and Protection Act, or specific child privacy legislation such as the Kids Online Safety Act.
State Governments Are Moving Ahead with New Restrictions on Chinese Apps
Meanwhile, at the state level, many governors, state agency heads, and state legislators are taking matters into their own hands by restricting TikTok—and in some cases, additional apps and technology vendors—from state-owned devices and state networks.
Employers – whether government or private – are free to determine whether their employees are allowed to use an app on company or government devices and networks. Restrictions might be justified based on privacy, security, or just to avoid having employees using company assets for private purposes. And that's precisely what many state governments have done.
The following is a list of states that have taken steps to restrict TikTok in some form. Some governors opted to enact formal executive orders, while others utilized existing authority to direct agencies to implement TikTok bans across government agencies. Some state legislatures have even enacted new laws combatting TikTok or have legislation pending this session to that effect.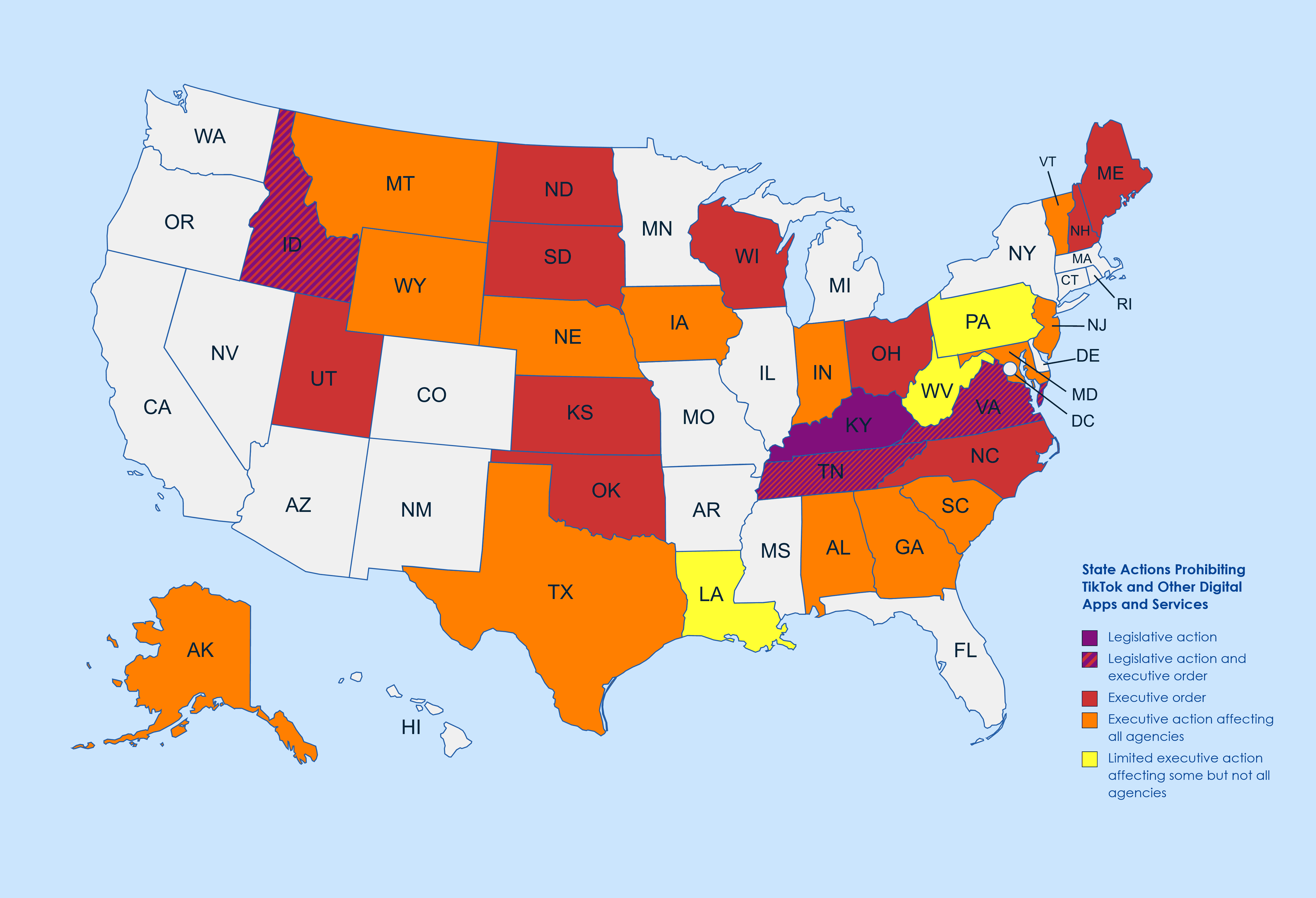 Source: ALEC research, last updated March 31, 2023
Source : Alec